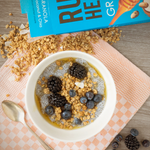 Chia Pudding with Coconut Crumble
Take some tiny chia seeds bursting with omega 3, soak them in creamy coconut milk so they become plump and juicy. Then as if that wasn't enough goodness, top them with a little crunchy coconut and chia granola because the more the merrier when it comes to ingredients this fabulous.
Ingredients (Serves 1)
40g chia seeds
240ml Coconut milk
Rude Health Coconut Chia Granola, for serving
10g honey, for serving
handful of fresh berries, for serving (blackberries, blueberries, raspberries, strawberries)
coconut smiles (coconut chips), for serving (optional)
Method
In a small bowl, mix together the chia seeds and the Rude Health Almond Drink or Rude Health Coconut Drink. Cover and set in the refrigerator overnight.
In the morning, give the chia seed pudding a good mix and break apart any clumps.
Top the chia seed pudding with Rude Health Coconut Chia Granola, honey, a handful of fresh berries, and coconut smiles (if using).