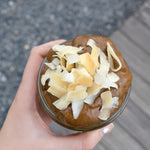 Avocado & Pistachio Chocolate Pudding
This dessert is one of the quickest and easiest healthy desserts out there; no time consuming whipping of cream, no waiting for gelatin to set, this chocolate mousse is ready to eat in just 10 minutes! By adding the protein powder, not only have you given it a protein boost but also added a delicious nutty flavor, perfect alongside the smooth chocolaty texture.
Ingredients:
2 ripe bananas
½ cup of rice milk
¼ cup maple syrup
1 tbsp. of Chocolate protein powder
½ cup of raw cacao powder
Optional:
baked coconut chips for some crunch
Directions:
Peel your avocado's and bananas and add them to a large blender
Add rice milk and blend mixture until bright green and smooth
Add the powders, cacao and pistachio protein
Add the maple syrup
Blend entire mixture until consistency and color of traditional chocolate mousse
Remove from blender and refrigerate for 30 minutes for optimal eating
Just before consumption add whatever toppings you desire, in our case baked coconut chips added the perfect and much needed crunch
Enjoy!