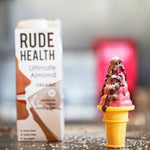 Ultimate Almond and Fruit Ice Lollies
Simply blend and freeze. These creamy frozen treats are perfect to cool you off.
Makes about 6 ice lollies (note that ice lolly moulds vary in size)
INGREDIENTS
1 cup of almond milk 

1 cup of thick Greek yogurt

2 bananas

2 tsp honey

Small handful of raspberries

10 strawberries

Small punnet of blueberries

Small bar of milk chocolate

2 tbsp desiccated coconut
DIRECTIONS
Place the almond milk , yogurt, banana, raspberries and the honey into a blender.

Whizz until smooth, then lightly tap the base of the blender jug on the worktop to settle out any bubbles and froth that has formed on top of the mix.

Take the ice lolly freezer moulds, and fill two thirds full (leaving space for the fresh fruit).

Slice the strawberries into quarters and drop them and some blueberries into each ice lolly mould.

Freeze overnight.

They are then ready to eat. If you feel a little creative flare in your fingertips, melt some milk chocolate and drizzle over the lollies before sprinkling with desiccated coconut for a crunchy coating.