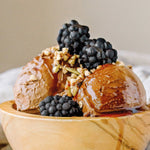 How to make vegan gelato: 3 delicious recipes to try at home
by
With summer fast approaching, there's nothing like a deliciously cold and creamy treat. Thinking of giving your favourite dessert a healthier, guilt-free spin? Why not whip up some home-made gelato?As a bonus, you can also make it vegan – without comprising on the taste.
To begin, what is vegan gelato anyway?
As you probably already know, the delicious frozen dessert has its roots in Italy. It's known for being similar to ice cream although, as nutritionists and experts have stated over the years, it has a lower fat content. As far as taste goes, it is also creamier, denser and has a stronger flavor profile.
That being said, much like ice cream, the primary ingredient in gelato is milk. But with veganism becoming more widespread, dairy-free gelato has been coming into its own. "Vegan gelato is made from purely plant-based ingredients," explains Prashanti Shekar, "It can be made by replacing dairy milk with alternatives like coconut milk, nut-based milks or oat milk. There a plenty of options that one can experiment with, including quinoa milk and even avocado. However, it is important to use a base that is neutral, or one that compliments the flavour being prepared and has the right amount of fat. We are talking about an indulgent frozen creamy dessert, after all."
Thinking of whipping up some vegan deliciousness at home? Tatiana Abouassi, an integrative health coach and founder of blog www.healthandyum.me, says there are numerous reasons to DIY. "It's easy to make using simple and wholesome ingredients," says the blogger, who started experimenting with gelato recipes 11 years ago when she was diagnosed with gluten and lactose intolerance. "I would recommend as you can avoid additives and artificial sweeteners. You can also adjust the flavour and texture to your liking."
Abouassi recommends using coconut cream and coconut milk. Some other tips she suggests to make home-made gelato are:
If you are using cashew or macadamia in your recipe, it is better to combine it with full fat coconut milk as the ice cream will already be rich. If you are not using nuts, it is best to use coconut cream to get that texture.
Using an ice cream maker gives a creamier texture but is not mandatory.
Place an empty freezer-proof container in the freezer at least 2 hours before the preparation of the ice cream for faster, better results.
Pull the ice cream out of the freezer five to 15 minutes before serving
Only use good quality coconut cream / milk (preferably organic) as it affects the texture.
Here are three easy, guilt-free recipes, courtesy of www.healthandyum.me.
Tahini-cardamom chocolate ice cream
Ingredients
1 can coconut cream
1/2 cup date paste
1/2 cup tahini
3/4 teaspoon cardamom powder
1 teaspoon pure vanilla extract
Method
Add everything to a blender and mix until well combined.
Add base to a freezer-proof container and freeze until it sets – at least a few hours or overnight.
Banana nut butter
Ingredients
3 bananas, sliced and frozen
¼ cup + 2 tablespoons coconut cream
½ cup + 2 tbsp nut butter of choice (almond or peanut butter)
3 tablespoons maple syrup
1 teaspoon pure vanilla extract
Method
Add bananas to a food processor or blender. Blend until crumbly.
Add coconut cream and blend until somewhat smooth
Add ½ cup peanut butter, maple syrup and vanilla.
Blend until smooth, scraping down the sides of the processor as needed.
Pour half of the mixture into a freezer-proof container
Drizzle about 2 tablespoons of nut butter over this layer of ice cream.
Pour the remaining half of the ice cream mixture over it.
Freeze until it sets as least a few hours or overnight.
Maca chocolate ice cream
Ingredients
8 dates, soaked in hot water for 30 mins
1/3 cup cashews, soaked in hot water for 30 mins
1 can full cream coconut milk
2 tablespoons oat flour
1 teaspoon pure vanilla extract
1.5 tablespoons cocoa powder
1 tablespoon maca powder
3 tablespoons maple syrup
Pinch of salt
Instructions
Drain the dates and cashews.
Blend with the rest of the ice cream filling ingredients until smooth.
Transfer to a saucepan and cook stirring occasionally until boiling and thickened to a thin custard.
Cool to room temperature.
Add ice cream base to a freezer-proof container and freeze until it sets as least a few hours or overnight.