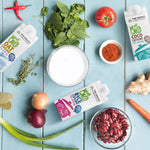 Replacing Dairy Cooking Creams
You can now simply substitute with dairy-free alternatives without compromising on taste and creaminess. Cutting out dairy has many health benefits, especially for those who suffer from intolerances or gut sensitivity. Benefits include; improved digestion, acne reducing, hormone balancing and a boosted metabolism. Making the conscious shift to a healthier diet substitutes has never been this smooth! 
Make your favorite traditional dishes, or experiment with new styles of cooking with inspiration from The Bridge Bio & Soil!
SALTY PANCAKES WITH PAPRIKA SAUCE
INGREDIENTS:
(for 4 people)
100 g rice flour
70 g chickpea flour
30 g buckwheat flour
1 teaspoon of bicarbonate
½ bag of saffron
1 tablespoon of extra virgin olive oil
1 pinch of salt
For the sauce:
1 spoon of sweet paprika
salt, hot pepper q.b.
To complete:
1 handful of dried tomatoes in oil
1 handful of rocket
ADDITIONALLY, WE SUGGEST USING BOBS RED MILL 7 GRAIN PANCAKE MIX
Preparation: Mix the flours and the bicarbonate together, then in a glass put together the oil, the BioOatDrink and the saffron, then pour them gradually into the bowl with the flours, stirring with a whisk until the mixture is creamy and without lumps.
Let stand for about half an hour, then heat well a non-stick frying pan, then lower the heat to a minimum and pour a spoonful of the mixture so as to form small pancakes that will grow almost immediately. Turn them over and cook them on the other side, being careful not to burn them.
Prepare the sauce by heating the BioRiceCuisine in a saucepan and seasoning it with a pinch of salt, paprika and chilli pepper to taste. Rinse the dried tomatoes from their oil and cut into small pieces. Stack the pancakes by making turrets, filling each layer with a little 'sauce, dried tomatoes, and rocket.
APPLE MOUSSE
INGREDIENTS:
(for 4 small or 2 large bowls)
large sweet and ripe golden apples
1 cinnamon stick
teaspoon of vanilla essence
1 handful of natural pistachios slices of dried or raw apple to decorate
Preparation: Peel the apples and cut them into small pieces, then place them in a large pot along with Bio Soia Drink Vanilla and cinnamon. Boil on a very low heat for about 20 minutes. Initially, a foam will form, then the liquid will begin to shrink and thicken. When the liquid's dried and the apples mashed, remove the cinnamon and blend by immersion trying to incorporate air until you get a smooth and soft mousse. Let it cool completely and in the meantime lightly toast the pistachios in the oven at 150 degrees for 8/10 minutes, then chop them with a knife. Serve the mousse in glasses or individual cups adding with pistachios and apple slices.
SUNDRIED TOMATOES AND SPINACH BRUSCHETTA
INGREDIENTS:
(for 4 people)
4 slices of durum wheat or whole-grain homemade bread
1 shallot
300 g fresh spinach
3 or 4 pieces of dried tomatoes in oil
2 tablespoons of food yeast
1 handful of pine nuts
salt, olive oil
Preparation: Toast the pine nuts in a pan or oven at 150 degrees for about 5 minutes. Chop the shallot and stew it in a pan with a little oil and a pinch of salt, then add the spinach and let it dry for a few minutes. Add the dried tomatoes chopped in small pieces. Add Bio Oat Cuisine and the food yeast, stirring to mix well. Toast the bread in the oven until crispy, then place the hot spinach on top, adding the pine nuts. Serve immediately.
CARROT CREAM
INGREDIENTS:
(for 4 people)
1 kg of carrots
1 large or 2 small onion
1 teaspoon of ginger powder
2 cloves
1 bay leaf
2 open cardamom berries
1 teaspoon of coriander powder
100 g onion
1 teaspoon of turmeric
nutmeg
1 liter of BioAlmondDrink Sugarfree
4 tablespoons of BioOatCuisine
a handful of ground toasted almonds
fresh coriander or parsley
EVO oil,
salt and pepper
Preparation: Clean and cut the carrots into chunks. Slice the onion and let it stew with 3 or 4 tablespoons of oil in a saucepan with a pinch of salt and all the spices except turmeric and nutmeg. After a couple of minutes add the carrots and stir, then pour the BioAlmondDrink (Sugarfree), cover and cook until the carrots are nice soft.
Remove the bay leaf, the cloves, and the cardamom berries, then blend them to obtain a cream, adding the turmeric and a generous grated nutmeg. Adjust salt. Pour the cream on the plates and complete with a spoonful of BioOatCuisine. Garnish with almonds and fresh coriander or parsley.
CHOCOLATE COOKIES
INGREDIENTS:
(for 4 people)
350 g whole wheat flour
150 cocoa butter
100 brown sugar
20 gr cocoa powder
1 pinch of salt
ADDITIONALLY, SUGGEST USING BOBS RED MILL COOKIE MIX
Preparation: In a large bowl, sift together all the ingredients and mix well. Roll dough into 1″ balls and flatten into disks about 1 1/2″ in diameter. Place on an ungreased cookie sheet about 1″ apart and bake for 10 minutes. Let rest on the cookie sheet for about 5 minutes, then remove with a spatula to a cooling rack and cool completely.
RED BEAN CURRY WITH COCONUT MILK
INGREDIENTS:
(for 4 people)
700 g cooked and well-drained red beans
2 teaspoons of tasty curry
2 bay leaves
100 g onion
100 g carrot
hot pepper powdered
1 handful of fresh coriander
EVO oil
salt
Preparation: Chop the onion and cut the carrot in very small cubes, then let them stew in a large frying pan with a little oil, the bay leaf, the curry and a pinch of salt.
When they are softened add the beans and stir to make them flavor. Then pour the coconut milk, cover and let simmer stirring occasionally until the milk has shrunk becoming thick and creamy. Add chili to taste and serve with coriander.