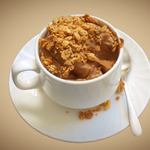 Breakfast Chocolate Mousse
Bressert anyone? This incredibly healthy and delicious breakfast chocolate mousse dream can be whipped up in seconds.
Makes a mousse for one
Ingredients
1 avocado
1 banana
A dash of dairy free milk 
A heaped tablespoon of cocoa powder
Method
1. Blend all of the ingredients above in a blender. Sprinkle with some crunchy granola. Bliss.