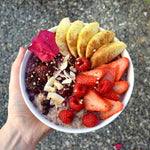 Like Banana ice cream for breakfast, you may have thought that a sweet quinoa dish for breakfast was equally as weird, but I promise, this oat-substituted porridge is an incredibly filling and nutritious meal, if a bit strange to the senses at first.
One of the main benefits of this recipe is that its naturally gluten free, so no need to worry about oat gluten contamination with this porridge recipe! Quinoa is also naturally very high in protein, with 8g of protein per cooked cup, as well as all the essential amino acids that we need.
So if you're looking for a lighter, gluten free and more nutritious option for your breakfast porridge look no further.
Ingredients: (serves 2)
1 cup of white quinoa
1.5 cups almond milk
1 tbsp sweetener (we use jaggery)
1 tbsp cinnamon
All the base ingredients used can be found on the SOIL website, Almond Milk, jaggery low-glycemic sweetener (perfect for diabetics) and Organic white Quinoa.
Step 1: Base
Wash your cup of quinoa and cook it until light and puffy, with 2 cups of water.
Lightly heat 1 cup of Almond milk and then pour over cooked quinoa
Mix milk and quinoa together to form the base of your 'porridge'.
Step 2: Flavor
Gently mix in 1tbsp of sweetener of your choice
Sprinkle over 1tbsp cinnamon and pour into 2 bowls
Step 3: Toppings
I like to go all out with my toppings; I think it's the best part!
On this particular bowl I chopped up half an apple and sprinkled it with more cinnamon to place on top
I stewed some berries and mixed it in a bit more to the porridge to give it a fruity flavor
I also topped the dish with fresh strawberries and raspberries
For some crunch I sprinkled over some buckinis and coconut chips
I also like to pour over the remaining almond milk to make it extra creamy!
Step 4: Enjoy!
Although your mouth might be a bit weirded out by sweet quinoa at first, trust me you will be coming back to quinoa porridge as a breakfast staple soon enough.
And remember, you can alter sweetness and toppings all to your own personal tastes. So if more cinnamon rocks your boat, go for it!