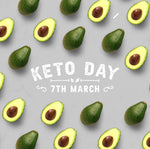 Attention all Keto Lovers!
We are now hosting a monthly Keto day. The first installment of this event will be hosted this Saturday the 7th of March at Soil Store, Al Seef Village mall, Abu Dhabi.
Get your favourite Keto approved  products on discount from morning till evening.
We also have a Keto workshop on the day from 11:30AM with Keto specialist Shirley D'Souza. Send your RSVP directly to events@soilstore.com.
You'll also get to enjoy Keto snacks and take home special Keto products.
There have been a lot of questions about the popular Ketogenic lifestyle around the world - such as what to eat? How sustainable is it? Is it safe? What are the side effects?
Attend this workshop and you'll get all the answers from our Ketogenic/Primal/Wholefood and Paleo Diet Specialist, Shirley D'Souza (
@ketocoachdxb
) and receive tips on how to integrate these new lifestyle choices.
Shirley will introduce the basic science behind the diet including contraindications and safety. More importantly how to start a well formulated Keto lifestyle, what additional support you'll need (e.g. supplements), what to expect when you start this way of eating, and when to seek medical advice and support while you are on this journey.
After this workshop, you will have the knowledge necessary to start implementing the nutritional Ketogenic lifestyle without going through the mistakes that many have gone through, from doing the (google) Keto.
Shirley D'Souza is a Certified Ketogenic living and Primal Health Coach licensed in the UAE and specializes in nutrition guidance, customised body chemistry ketogenic plans, and address healing of gut issues, PCOS, Cholesterol, insulin resistance, hormone and fertility issue and many more.