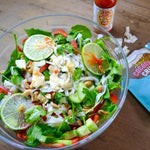 If you're in the mood for a light and refreshing meal that will still pack enough punch to fill you up, look no further than this colorful Asian inspired cucumber salad.
This delicious salad incorporates the simple and light, citrusy Asian flavors with a refreshing blend of raw vegetables mixed with a base of rice noodles, topped with baked coconut chips and peanuts for a nice crunch; perfect for a filling yet healthy lunch.
Ingredients:
Salad
6 medium size cucumbers
1 large red pepper
Large handful of any mix of salad greens (I used arugula + baby spinach)
2 spring onions
½ cup mint leaves
½ cup coriander
1 packet of rice noodles (I used one that said for 3 persons)
¼ cup peanuts
Handful of baked coconut chips
Dressing
1tbs soy sauce
Juice of ½ lime
1tsp maple syrup
Touch of habanero hot sauce
Step 1: Prep your vegetables
Chop the cucumber into 1cm thick quarters
Slice the red pepper very thin lengthways
Wash your assorted greens but leave the leafs whole
Chop your spring onions into about 0.5cm slices
Wash your coriander and mint leaves but leave them whole as well
Step 2: Cook your rice noodles
Bring a pot of water to the boil and simply submerge your rice noodles like you would pasta
Keep an eye on these as they usually do not take longer than 5 mins to soften
Step 3: The dressing – can be done whilst noodles cook
Just mix all ingredients in a small bowl and leave to sit while you construct the salad
Make sure to mix well so the thicker maple syrup and hot sauce are not lumpy and are fully dissolved
Step 4: Constructing the salad
Now that the noodles are done, drain them and rinse with cold water to lower their temperature and to help avoid sticking
Pour the noodles into a large mixing bowl (usually not the one you serve in, just to mix the salad)
Add cucumber, red pepper and spring onions and mix well into the noodles
Next add the salad greens, most of the coriander and mint and mix in (leave some coriander and mint to garnish)
Now drizzle on the dressing and mix the salad well
Lastly transfer the salad into its serving bowl
Throw over the peanuts and coconut chips lastly and gently mix them in so that they don't loose their crunch
Dress the finished salad with the remaining coriander and mint, you can even thinly slice some left over lime for decoration
Step 5: Enjoy!
This salad is the perfect family meal and left-overs are great for saving in the fridge for packing the next day as a work or school lunch