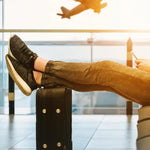 Jet-Set the Healthy Way!
Staying healthy on the go is a world-class balancing act! 
From the meals, you eat while you're on holiday, to regular hydration and keeping your fitness routine going... It seems impossible to stay healthy as an urban adventurer. 
We've compiled a few tips that you can incorporate on your journey so you can stay healthy on holiday:
Start your day with a Green Juice
The powerful enzymes contained in green juice can support and protect your gut throughout the day. Having a fresh green juice first thing in the morning will set you up and energize you for a full day of activities. 
Tip: Cold-Pressed Juices can easily be frozen. Stock up at the beginning of your holiday, freeze the juices and defrost them one by one.
Set Alarms
Setting reminders and alarms during the day will serve as a useful interruption during the day so you can stop, and remind yourself to drink water, take vitamins or take 10 mins to sit down and clear your mind and regroup.
Incorporate travel activities that double up as fitness exercises
Keeping your fitness routine going is always easier at home. But going on holiday doesn't mean having to put your fitness goals on hold. Use every opportunity to get your exercise in. Walk instead of commuting, taking hikes or join in on local classes recommended to you.
Talk to people you meet along the way
Not only does talking to others around you lift your spirit, you never know who you might meet. Striking up conversations with random people may lead to finding secret spots for local healthy food, recommendations of the best places to see and everyday hacks the locals use to find better and more affordable ways to get around for tourists visiting.
Supplement
One of the best ways to ensure your health on holiday is to supplement with various health products that give you the nutrition you need that you would otherwise normally get from home-cooked meals. Take sachets of dietary fiber, a small, travel-friendly pro-biotics, and a medicine organizer with essential daily vitamins. Tip: Vitamin B12 can boost your energy levels leaving you with more energy to fully optimize your getaway.
Protect your Skin
Wearing a daily SPF50 moisturizer for your face and sunscreen for your body will prevent the sun from damaging your sensitive skin no matter the climate! While you may not realize it during the day, it's likely that you will only find yourself sunburnt at the very end of the day when it's already too late. When it comes to skin and anti-ageing, prevention is better than a cure.
Carry hand sanitizers and wet wipes
Travelling often exposes you to germs and bacteria that your body may not have a tolerance to. Carrying hand sanitizers and using them regularly before meals, means that you can travel with your mind at ease, and return home healthy and able to bounce back into your routine quicker.
Get Enough Sleep!
Maintaining your sleep pattern to the best of your ability will mean that you can enjoy each and every day to the fullest. It will also be easier to get back into your regular sleeping pattern once you return home. Sleeping also gives your body time to digest and detox in its own marvellous way.